Homes in Commerce City, Colorado
Commerce City was long known for its oil and gas refineries and other industries that were not attractive to most people. This has changed dramatically. Today, this vibrant community features beautiful master-planned communities from some of the nation's leading residential builders.

There are 840 acres of parks and open space, including one of the largest urban wildlife preserves in the country, Rocky Mountain Arsenal National Wildlife Refuge. The refuge is home to over 330 species of animals, including Bison, white pelicans, owls, bald eagles, deer, foxes and much more. The refuge is a destination for Colorado residents and visitors who want to be in nature without going to the mountains, and provides recreational activities such as hiking, biking, bird watching, fishing, and more.

Commerce City is home to Dick Sporting Goods Park, one of the largest soccer complexes in the nation. The state-of-the-art facility can seat over 18,000 people and is the home field of the Colorado Rapids professional soccer team. In addition, Commerce City has two recreation centers and Paradise Island Pool, an outdoor game-themed water park. Golfers have access to the city's Buffalo Run Golf Course and numerous other golf courses, all offering panoramic views of the majestic Front Range.

Local events include the state's largest Memorial Day Parade and the 4th Fest, one of the state's largest Independence Day celebrations and fireworks displays. Commerce City's economy is powered by nearly 1,500 companies, both large and small. The town is just minutes away from Denver International Airport, commercial and passenger rail lines, and the region's major interstate highways help make Commerce City one of the busiest transportation and logistical hubs in the nation.
List of Zipcodes
| Zip Code | Zip Code Name | Zip Code Population |
| --- | --- | --- |
| 80022 | Commerce City | |
Demographics
| | Zip Code | City | County | State | National |
| --- | --- | --- | --- | --- | --- |
| Population | 4,270 | — | 585,026 | 5,759,582 | 331,426,769 |
| Population Density | 49.4 | — | 765.5 | 55.5 | 93.8 |
| Percent Male | 49.0% | — | 50.0% | 49.0% | 49.0% |
| Percent Female | 51.0% | — | 50.0% | 51.0% | 51.0% |
| Median Age | 50.8 | — | 42.6 | 40.2 | 39.0 |
| People per Household | 2.6 | — | 2.47 | 2.8 | 2.6 |
| Median Household Income | $106,904 | — | $80,305 | $115,942 | $61,963 |
| Average Income per Capital | $52,013 | — | $42,520 | $50,725 | $33,235 |
Market Data
| | Zip Code | City | County | State | National |
| --- | --- | --- | --- | --- | --- |
| Median Sale Price | $725,000 | — | $475,000 | $425,100 | $277,796 |
| Median Age of Home | 37.0 | — | 53.0 | 39.0 | 49.0 |
| Homes Owned | 86.0% | — | 68.0% | 67.0% | 58.0% |
| Homes Rented | 10.0% | — | 28.0% | 23.0% | 31.0% |
| Homes Vacant | 5.0% | — | 5.0% | 4.0% | 11.0% |
Market Trend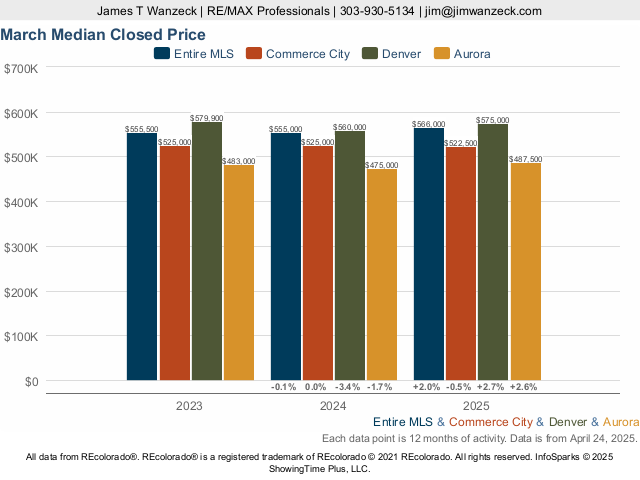 208 properties on market
Contact Us
RE/MAX Professionals
6020 Greenwood Plaza Boulevard
Greenwood Village, CO 80111, USA
Valuation Index
Quality of Life - 90%
Climate & Environment - 75%
Schools & Education - 73%
Safety & Crime - 17%
Walk Score®
Schools & Education
Safety & Crime
Zip Code
City
County
State
National

Violent Crimes

Calculated annually per 100,000 residents

Assault
162.9
—
255.9
246.3
250.2
Murder
2.2
—
2.8
3.8
5.0
Rape
70.4
—
68.3
67.2
42.6
Robbery
123.3
—
51.7
63.6
81.6

Property Crimes

Calculated annually per 100,000 residents

Burglary
223.7
—
425.3
348.4
340.5
Theft
360.4
—
641.0
1,858.3
1,549.5
Motor Vehicle Theft
603.0
—
125.9
384.0
219.9
Take a photo of this QR code
to keep this website details